MagnaFlow - Dual Rear Side Exit Cat-Back Exhaust  15461
---
Made in the USA and engineered to last, for those seeking increased performance and better economy, MagnaFlow MF Series Performance Exhaust systems deliver the smooth deep sound you want and the wide-open performance power you need. Our exhaust systems feature straight-through flow designs for the ultimate in unrestricted horsepower and torque for big power while maintaining exhaust efficiency. These systems are an engineered balance of interior and exterior noise levels and are tested against SAE j1169 standards.
---
 * Delivers a Smooth, Deep Tone
 * 100% Stainless Steel
 * Fully Polished Mufflers
 * Dyno Proven
 * Lifetime Warranty 
---
Whether you drive a street, off-road  truck, MagnaFlow has DYNO-PROVEN exhaust systems that are rugged enough to survive grueling Baja racing. Each system is designed to bolt right on and provide years of trouble-free performance. Provides a smooth, deep tone that is suitable for grocery-getting SUV's with casual tow duties.
---
California Residents: Prop 65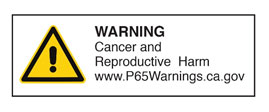 ---