JLT 3.0 Oil Separator (Catch Can) 11-19 F150 5.0/3.5EB/2.7EB (Will fit Roush/Whipple too)
3016
---
NEW multi stage filter system hold 3oz of fluid.

Designed to collect the finest of vapors.

Easy removable knurled bottom.

Allows clean air to pass through to the intake. 

Solid and thick Billet construction.

Easy install with full directions.

---
*This product is NOT CARB (California Air Resource Board) Exempt. It is not for legal sale or use in the state of CA or any other states adopting CA emission standards and require a CA Executive Order (EO) number. Any orders placed for this item with a CA ship to address will be cancelled. 
 

California Residents: Prop 65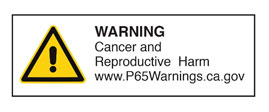 ---
How does it work?

During the process of venting crankcase pressure back through your intake track, large amounts of oil, in the form of vapors can gather/accumulate in your intake tube, intake manifold runners and even dilute your gas, lowering its octane level. This happens in all engines and is even worse with forced inducted vehicles (supercharged and turbocharged) as crankcase pressures are increased. Filtering consists of a fine mesh stainless steel screen that traps fine oil vapors and releases them once heavy enough to fall. They then pass through a 1/2" thick 1/16th" aluminum honeycomb filter where they grow even larger and then fall into the bottom. By the time the oil gets through the filter it's too heavy to be passed on into the intake. Drain it every 5000-7000 miles and you will never come close to filling it.
---
APPLICATIONS THIS FITS:
2011-2019 F-150 5.0L 
2011-2019 F-150 5.0L with Roush/Whipple superchargers
2011-2019 F-150 3.5L Ecoboost 
2015-2019 F-150 2.7L Ecoboost
2017-2019 Raptor 3.5L Ecoboost
2015-2019 Expedition 3.5L Ecoboost