Banks Power Monster Exhaust System, Single Exit, Chrome Obround Tip for use with 2011-2014 Ford F-150,5.0, 6.2L all Cab/Bed 48761
---
Description
Free flowing direct-fit resonator-back system cuts backpressure. Throaty sound, huge polished tip. Constructed from heavy-duty stainless steel, Banks' large bore, mandrel-bent Monster exhaust system connects to your truck's factory intermediate pipe, cutting backpressure and increasing flow. That gives you the best of all worlds - increased power, greater longevity and maximum fuel efficiency. The polished-stainless straight-through muffler outflows stock by a mile and delivers a commanding, yet civil, exhaust note. This system has been specifically developed to work with the factory resonator (where equipped) to eliminate in-cab drone and resonance which can be very pronounced while maintaining a throaty performance sound. The system includes Banks' exclusive ob-round (patented design) angle-cut rolled-edge tailpipe tip in your choice of polished chrome-over stainless or high-temp black! And to help keep it looking good, there's a 1/2 inch air gap to keep heat from tarnishing the finish. An adjustable clamp lets you position it on the tailpipe just right. The lightweight, direct-fit-system bolts on easily.
Details

Attachment Type: Clamp-on
Material: Stainless Steel
Hardware Included: Yes
Exhaust Tip: Single
Exhaust Tip Shape: Ob-round
Exhaust Tip Cut: Angled
Exhaust Tip Edge: Rolled Edge
Tip Size Inlet: 3.5 IN
Tip Size Length: 13.38 IN
Tip Size Diameter: 4.38 x 5.25 IN
Exhaust Tip Finish: Polished Chrome over Stainless
Condition: New
---
NOTE: THIS EXHAUST SYSTEM IS NOT CARB EXEMPT AT THIS TIME AND IS NOT LEGAL FOR SALE IN CALIFORNIA OR USE ON VEHICLES REGISTERED WITH THE CALIFORNIA DEPARTMENT OF MOTOR VEHICLES.
California Residents: Prop 65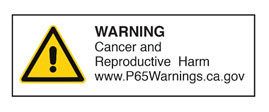 ---
Vehicle Fitment:

2011 FORD F-150 5.0L GAS

2011 FORD F-150 6.2L GAS
2012 FORD F-150 5.0L GAS

2012 FORD F-150 6.2L GAS
2013 FORD F-150 5.0L GAS

2013 FORD F-150 6.2L GAS
2014 FORD F-150 5.0L GAS

2014 FORD F-150 6.2L GAS
All Cab/Bed